About Lake Murray SC
Created in the late 1920's as a source of hydroelectric power, beautiful Lake Murray is located slightly to the northwest of downtown Columbia, South Carolina and is known as the "Jewel of the Midlands". With over 600 miles of coastline and 50,000 surface acres of water, the lake is well suited for a wide variety of activities. Boating, fishing, skiing, swimming, and relaxing are the order of the day on this year-round water playground.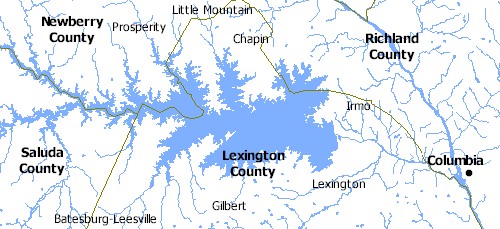 At 41 miles long and 14 miles wide (at its widest point) Lake Murray has shorline that can be found in four different counties (Richland, Lexington, Saluda, and Newberry)- all of which are part of the Columbia SC Metropilitan Statistical Area (MSA). A major focal point of the region, you will find here some of the best quality schools, top-notch medical facilities, plus lots of entertainment, shopping, and recreational opportunities.
Recreation
Lake Murray South Carolina is a recreational mecca for the southeast. From barefoot shoreline walks to fun-in-the-sun skiing and boating, you're sure to find your pace here.
Here's a short list of popular activities found on and around the lake:
Pontooning and Recreational Boating
Pontooning is a slow paced leisurely family activity well suited for picnics on the water, visiting friends and neighbors, and casual fishing. Many call this "relaxin' on the water". No pontoon? Any boat that floats will do!
Fishing
Whether a casual fisherman or a serious pro, this nationally recognized fishing spot offers a variety of species to suit your style. Here you'll find striped bass, largemouth bass, crappie, bream, catfish, perch, and more - all waiting to jump in the boat! (Disclaimer: Individual results may vary.)
Relaxing
From sunning on your dock to swinging in your shaded hammock - just feel the breeze and hear the water as you drift away.
Sailing and Yachting
Compete in a regatta, join a sailing and yachting club, or set sail alone with your cutter. Abandon the "true wind" and sail Lake Murray.
Playing Golf
Put your clubs in your boat and navigate your way over to Timberlake Golf Course - Lake Murray's only waterfront golf course. "I think I'll play another nine!"
Purple Martins
Every evening during the summer, dozens of boats gather around Bomb Island (North America's first official Purple Martin sanctuary) to watch the spectacle as thousands of Purple Martins come to roost. No one is sure why this ritual occurs, but it's wonderful to behold and a nice way to spend an evening.
Not to mention...
Camping, swimming, sight-seeing, water skiing, jet skiing, scuba diving and more.
Frequently Asked Questions
Are there any guidelines about docks?
Yes. SCE&G issues dock permits and thus maintains very specific guidelines pertaining to dock construction and placement. For more information contact SCE&G.

What is SCE&G's role on Lake Murray?
Lake Murray is a source of hydro-elctric power, and as such, SCE&G (South Carolina Electric & Gas) manages land use and shoreline issues around the lake. This includes dock permits, development related issues and more.

What is a/the "drawdown"?
SCE&G conducts a planned "drawdown" each year in early fall. This results in a lowering of Lake Murray's water level. The drawdown is conducted in preparation of late winter and early spring rainfall. It also serves certain ecological benefits resulting in a healthier lake environment. The drawdown is usually gradual at about a foot per month with the total drop usually being between 4 and 8 feet.

What is a Lett System?
A Lett System is a type of residential sewage system that has a septic tank but no drain field. Alternately, the waste is pumped to the municipal line.

Why do some real estate listings on Lake Murray say "Water-Seasonal" or "Water-Year round"?
During a "drawdown" some properties will not have water frontage. Planned drawdowns are usually only during autumn or early winter. (Click here to find out more about water depth quality evaluation.)

What is the 75 Foot Setback Area/Vegetative Buffer Zone?
On some waterfront property, there may be a 75 foot setback area from the 360 foot contour line inland where SCE&G retains ownership of the land within that area. These areas have use restrictions pertaining to its alteration and clearing. Contact SCE&G Lake Management for more information

What is the 360' contour line?
The 360' contour line represents the normal high pool elevation of the lake. SCE&G retains ownership of the land below the 360' contour line and has use restrictions pertaining to its alteration and clearing.

Is the lake deep enough to sail on?
Yes, and sail clubs regularly meet for hobby and competition.

Does the lake freeze over in the winter?
No. It doesn't get cold enough for that to happen.

Are there alligators in Lake Murray?
Rest easy - the answer is no.